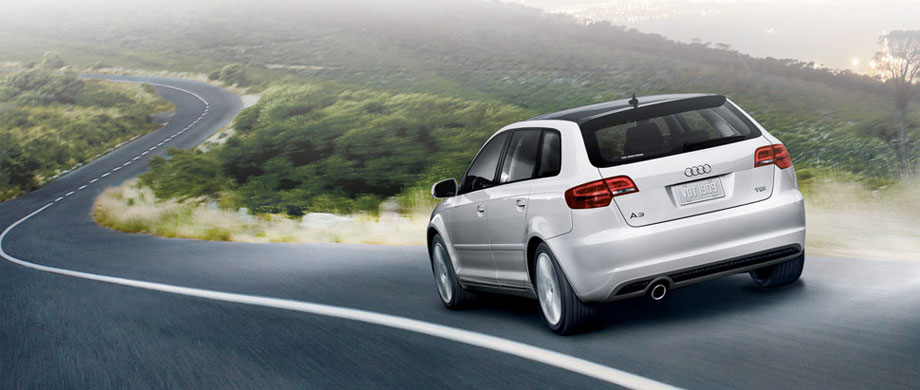 2013 Audi A3 Jacksonville, Florida Dealership


The 2013 Audi A3 definitely knows how to make a first impression. Just consider its strong, athletic lines and that unmistakable Audi Singleframe® grille. But to truly see it for what it is, one has to dig a little deeper. Do this, and what you'll uncover is much more than what first captivates the eye. The trademark Audi quattro® all-wheel drive system is available to help maximize traction, while the available groundbreaking TDI® clean diesel engine helps give you unmatched fuel efficiency without compromising performance. 

Its exterior may talk a big game, but inside is where it really speaks volumes. The luxurious interior is spacious enough to bring practically whatever your imagination can conjure up, while your four passengers will graciously thank you after experiencing the supple standard leather that graces every seat. In here, the possibilities seem exceptionally endless.

Sometimes an engine is so refined it makes it look too easy. Case in point: the Audi 2.0-liter turbocharged engine. Producing effortless power and punchy torque may seem easy, but peel back the mechanical layers and you'll find an array of technologically ingenious features that assist in making the seemingly impossible, possible. 

In the realm of high efficiency, all fuels are not created equal-or engines, for that matter. Consider the Audi TDI® clean diesel engine, which achieves better fuel economy than a comparable gasoline engine while producing fewer CO2 emissions. And when you add in the thrilling off-the-line acceleration that its 140 hp and 236 lb-ft of torque provide, you'll have an even better reason to yell out loud.

You should expect nothing less from Audi. And after experiencing all the ways we keep you connected, your expectations will be even greater. With available features like the advanced Audi music interface that provides intelligent integration with your iPod®, Audi MMI® Navigation plus with traffic information and seamlessly integrated BLUETOOTH® technology, you'll quickly realize we are all about keeping you infinitely connected to your world. 

Some might see that as a problem, but to us it's just another way of saying we care. You see, we kind of have a thing for safety. Namely, yours. That's why we go out of our way to help you avoid a collision-and why we developed such a wide array of innovative driver-control technologies. And if the unthinkable does happen, you can rest easier knowing we've put in a solid and comprehensive last line of defense.